Password Generator Gadget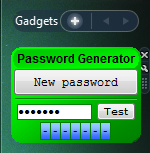 Name

Password Generator Gadget

Version

1.3

Publisher

Lavernock Enterprises

Description

Windows Vista Sidebar gadget for generating strong passwords. Also includes a facility to test the strength of your existing passwords indicated by colour-coded feedback — green for high strength and red for low strength. Note: For security reasons, passwords will be erased after one minute.
Install
Please show your appreciation for this application and support further development by donating via PayPal or Barclays Pingit.
See Also: