Copy as HTML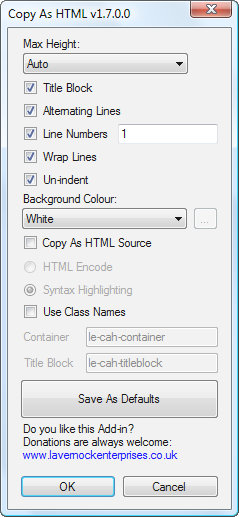 Name

Copy as HTML

Version

2.1.0.0

Date

9 April 2015

Publisher

Lavernock Enterprises

Description

Add-in for Visual Studio 2013 to copy selected code in HTML format while preserving syntax highlighting, indentation, background colour and font. Options: Max Height, Title Block, Alternating Lines, Line Numbers, Wrap Lines, Un-indent, Background Colour, Class Names. Converts RTF, outputted by Visual Studio, into HTML.
Install
Please show your appreciation for this application and support further development by donating via PayPal or Barclays Pingit.